Mediterranean Diet – The Healthiest Diet? Food list, Pyramid & Health Benefits
Mediterranean diet basics
Mediterranean diet has made it on the top of the list, as one of the healthiest and most sustainable, easy-to-follow diet out of all.
Famous as a whole culture of foods and dieting, the Mediterranean diet comes from the style of eating that countries around the Mediterranean Sea invented, and still follow.
Full of nutrients, very versatile, this diet even allows a little bit of wine and red meat here and there. Just make sure you are ready for this because the word Mediterranean will be repeated hundreds of times throughout. Enjoy!
What is the Mediterranean diet?
Mediterranean diet is a pattern of eating that excludes many processed types of meat and sugars while encourages eating plants, healthy oils, dairy, and fish.
If you've ever been to Spain, Greek, Italy, France, Turkey, or Croatia, you have probably stumbled upon the Mediterranean dishes.
Mediterranean diet relies on plant-based foods as the base of the diet, while including a moderate amount of white meat, fish, and dairy. Mainly, the diet itself is similar to flexitarian, which is a flexible vegetarian who is allowed to eat some meat here and there.
Some similar non-restrictive diets that are also quite sustainable, flexible and healthy for the general population include The Paleo Diet and The Pescatarian Diet.
A Well-Balanced Diet
You might wonder why is Mediterranean diet performing so well, being at the top of most lists for improving overall health.
The answer is simple. Most of the other diets such as vegan, keto, carnivore, fasting may be little bit too extreme for some people in the long run, and are pretty hard to sustain, with few potential negative side effects in case of non-optimized diet and supplementation.
On the other hand, the Mediterranean diet is one of the best all-rounders out of all diets and is safe to be performed by the majority of the population without any side effects.
This is because the Mediterranean diet encourages a large variety of foods, basically including some whole grains, plants, meats, dairy, and even moderate amounts of wine.
When consuming so many different foods, especially following the Mediterranean style which relies on mostly non-processed foods, your health and longevity can be drastically improved.
Is the Mediterranean diet the healthiest diet in the world?
When it comes to health, every diet has its pros and cons. The important thing to note is, before switching to any diet it is best to consult with your doctor and nutritionist and follow what works for you.
That being said, we can dive into this question deeper.
Since Mediterranean foods offer a good amount of fish, olive oil, nuts, seeds, vegetables, and fruits they are pretty stable and suitable for most people without any major risks.
The foods present in this diet have high amounts of vitamins, minerals, essential nutrients, and amino acids, plus are loaded with healthy fats, antioxidants, and anti-inflammatory compounds.
If there is one diet I'd choose over any other, for the long term, Mediterranean would be my main one. This is because it is hard to run on some deficiencies or problems following this diet.
When we are talking about health, every diet can be made healthier or unhealthier. So, in order for you to benefit from this diet, you should follow a healthy eating plan and get a large variety of foods.
So, before you start dumping Italian cheese-powered pizza or Greek gyros, let me walk you through the traditional style of Mediterraneans, so that you can learn how to eat healthy and well balanced in Mediterranean style
What Makes the Mediterranean Food stand out?
Why is the Mediterranean diet healthier than other diets? Mainly, dumping the saturated fat and excessive salt intake can definitely be beneficial for your heart.
Some of the major changes seen in the Mediterranean diet are:
Olive oil instead of Butter
Red Wine instead of Beer
Oregano & Garlic instead of Salt
Fish & Seafood instead of Red Meat
Aside from replacing saturated fat, many Mediterranean foods have a pretty good amount of essential nutrients, and spices that can boost our metabolism and improve circulation which offers an additional benefit for cardiovascular health.
Mediterranean Diet Food Pyramid
The healthiest diet on earth isn't just healthy because of the foods. Mediterranean style of eating also encourages many other themes or lifestyles related to longevity and health such as:
moderate physical activity
slow & mindful eating
eating with friends & family
dancing & listening to music
Usually, the Mediterranean style of eating focuses more on the quality of food, its origin, cooking, and eating rather than overall macronutrient profiles, which means you shouldn't worry about the ratio of carbohydrates to fat or proteins you eat in the Mediterranean pyramid. In fact you will see that these four activities are at the base, which makes them super important factor for living a longer and healthier life.
Aside from that, two things that this diet doesn't have is
total food restriction
macronutrient profile restriction
So what does the Meditarranean Food Pyramid actually look like?
Basics

Moderation

Small Amounts

Avoid
Foods eaten daily:
Whole grains: Oats, Barley, Quinoa, Buckwheat, Brown Rice, Pasta.
Vegetables: Olives, Spinach, Peppers, Cucumbers, Kale, Potatoes, Carrots.
Fruits: Bananas, Avocados, Tomatoes, Pineapples, Grapefruit, Mango, Blueberries.
Beans & Legumes: Lentils, Kidney beans, Soybeans, Black & Lima beans, Fava beans.
Nuts: Cashews, Almonds, Brazil nuts, Walnuts, Pistachios.
Seeds: Chia, Flax, Pumpkin, Sunflower, Sesame, Hemp.
Healthy Oils: Olive oils (low in saturated fats) optional: corn and peanut oil.
Herbs & Spices: Oregano, Thyme, Rosemary, Saffron, Sage, Turmeric, Garlic, Cumin.
Foods eaten weekly:
Seafood: Salmon, Shrimp, Lobster, Octopus, Scallop, Crabs, Fish, Oysters
Poultry: Chicken, Eggs, Cheese
Wine: Red, high-quality wine (up to 14 servings per week)
Foods eaten monthly:
Meat: Red meats such as pork, beef, bison
Sweets: dried fruit such as fig, raisin, dates
Foods to avoid on the Mediterranean Diet:
Processed red meat: salami, sausage, bacon & ham
Refined sugars: white bread & white pasta, crackers, cookies, pastries, cakes.
Excessive alcohol should be avoided for health reasons.
Oils high in saturated fat: butter, coconut oil, palm kernel oil
Mediterranean diet puts emphasis on healthy oils, whole grains, and vegetables. If you think of what a Mediterranean dish looks like you would think of some fish with tomatoes, pepper, and cucumber with a tablespoon of olive oil and oregano that makes a Mediterranean dish.
Think of beans and legumes mixed in a sauce of rosemary, garlic, and cumin with olive oil or pineapple with dark chocolate for a dessert.
Mainly, this diet is cutting off saturated fat and processed foods and fuels up on healthy fats and plant-based foods with the addition of seafood and poultry. And oh, a little bit of wine.
This is one of the main reasons why it is healthy for the heart, I mean think of it. Cutting of processed oils and red meat can have a great impact on cholesterol profile and may cut the risk of cardiovascular diseases.
Instead of salt, the Mediterranean diet focuses on spices and herbs which makes the food taste even more intense, wild, and tropical rather than just adding a bunch of salt which leads me to the next thing related to longevity, hypertension. Reducing excessive salt intake can lower your blood pressure scores which is an important factor when it comes to heart health and longevity.
What is the mediterranean diet?
The Mediterranean diet is considered on of the healthiest diets in the world. It is a pretty flexible, non-restrictive diet patterns which excludes processed meat and sugars, and encourages eating plant-based foods, healthy oils, fish and dairy.
What makes the Mediterranean diet the healthiest diet in the world?
The people who live the longest in the blue-zones mainly eat foods characteristic for the Mediterranean diet. The Mediterranean diet has a great ratio of plants, healthy oils and fish. In fact, what makes the carnivore diet restrictive is not eating plant-based products. What makes the vegan diet restrictive is excluding animal products. The Mediterranean diet allows both, but excludes the foods that are considered unhealthy for the general population, like too much processed red meats, unhealthy oils and sugars. It is like unhealthy-food elimination diet.
Mediterranean Cuisine
Mediterranean cuisine originates from the plethora of cooking styles, Mediterranean foods, and preparations in the Mediterranean region.
The Mediterranean Sea is right between Africa, Europe, and Asia. The most popular Mediterranean nutrition is linked to the regions of Italy, Greece, Spain & Turkey.
Characterized by three main elements of the cuisine such as olive, grape, and wheat, the Mediterranean style of eating has been significantly spread throughout the world.
Traditional Mediterranean Foods
What is the most characteristic thing about the Mediterranean style of eating?
Oregano, Olive oil, Red wine, Tomato, Cheese, Fish, Garlic, Quinoa, Pepper, Pasta, and Garlic.
This is how the diet looks in a nutshell.
Mediterranean diet has recently grown in popularity so much, because of its health benefits and a large variety of foods you can eat, without having to restrict yourself on a macronutrient level.
It is made possible in Mediterranean countries, because of the environmental conditions, the Mediterranean Sea, and climate. In these regions, people usually eat raw and fresh products, straight from nature around them.
Mainly vegetables, legumes, a lot of spices and herbs, whole-wheat foods and fruits are part of it. Just to get an idea of how this diet looks like, I will show you some popular Mediterranean dishes.
Mediterranean dishes
Greek salad is one of the most Mediterranean foods you can find. It is filled with veggies, such as tomatoes, olives, cucumber, onion, and peppers. Topped with oregano and olive oil, and extra cheese on top. One of my favorite, most refreshing salads.
Italian pasta is a great pasta alternative when you want to go Mediterranean style. It is delicious, free of saturated fat. Usually comes in combination with tomato sauce, garlic, anchovies, and basic, tastes delicious.
Shakshuka is one of the most famous breakfast recipes in Israel, also popular in North Africa and Morocco. It is made by stewing tomatoes in olive oil, with the addition of peppers. Poached eggs are added with hot tomato sauce, cumin, or jalapeno pepper served with whole-grain bread. It is a great metabolism-boosting, low carb breakfast.
Grilled Swordfish is one of the top seafood meals popular in Greece. It is a fresh, protein-rich option with extra antioxidants. Can be eaten as a part of a salad or as the main meal. The swordfish is grilled, served with the addition of marinade made from olive oil, lemon, garlic, thyme, basil, and oregano.
Bouillabaisse is a combination of vegetables, seafood, and spices. It is one of the most popular French dishes made with whiting, monkfish, sea robin, and lobster in a soup-like dish, rich in herbs and spices from the Mediterranean cuisine, such as garlic, thyme, parsley, and onion.
Italian pizza makes you love pizza even more. Not every pizza is unhealthy, we must all agree on that. Italian pizza is a healthier option, having tomato sauce, chopped onion, olive oil, and mozzarella for topping.
Nicoise, one of the healthiest salads in the world, popular in France. It is a combination of great lean protein and veggies, a low carb, mineral, and vitamin-enriched masterpiece. It combines asparagus, olives, eggs, tuna, avocado, olive oil, bell peppers, basil leaves, and scallions. 
Hummus is a savory dish or a dip made from chickpeas, popular among vegans. Usually eaten with carrots, as a snack. The hummus has a butter-like texture, is made by combining chickpeas blended with tahini, garlic, lemon, and olive oil. It originates from Egypt, characteristic of Eastern cuisine.
Turkish cuisine offers a lot of tasty recipes, one of which is made by mixing eggplant, lentils, and peppers. The addition of onion or garlic is great, parsley or mint is often added for taste to this great vegan alternative. This meal is cooked in olive oil and is served cold.
Tabouli is a fresh salad made with bulgur and parsley, a traditional Lebanese salad. It is a combination of mint, parsley, and chopped vegetables, a great vegan alternative too. Usually served cold, with extra lemon juice squeezed on top, you can combine this one with whole-wheat pancakes or pita bread.
Falafel is the vegetarian alternative to meatballs. Originated from Egypt, falafel is a deep-fried patty made from ground fava beans and chickpeas, served with other veggies in a pita, topped with tahini sauces. It looks like brown balls with a green interior in which parsley and cilantro dominate the taste.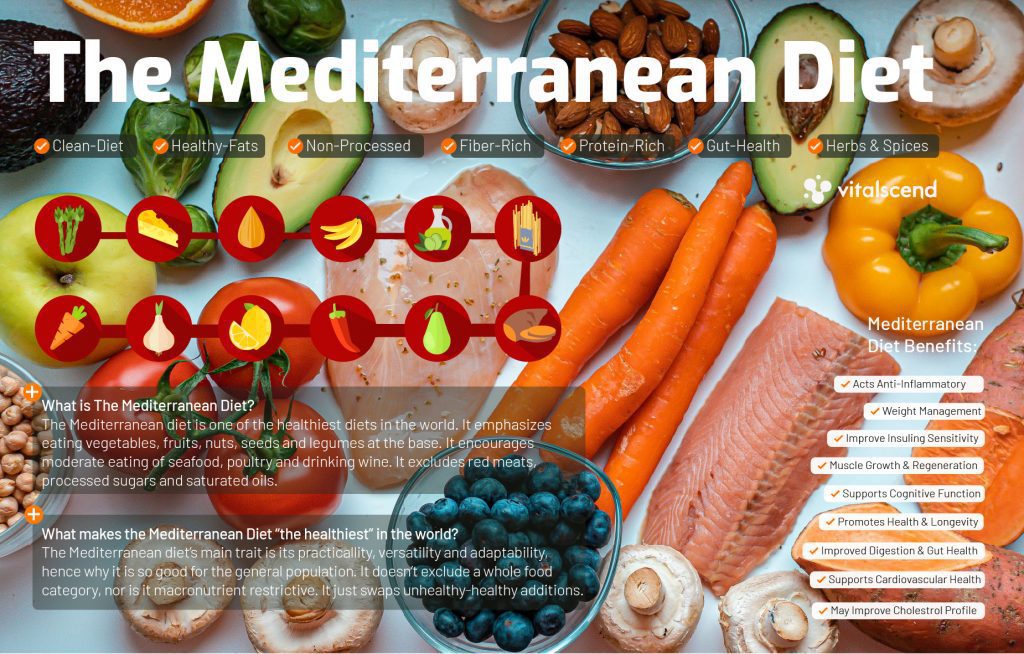 Health Benefits of the Mediterranean style of eating
One of the most versatile, easy to sustain, and flexible diets that produce major health benefits. Diet with no macronutrient pattern or restrictions, just more mindful eating, plant-food choices, moderate high-quality wine, a bunch of herbs and spices instead of salt, a diet that avoids Trans fats and excessive sugars.
Many studies have shown how this diet can positively affect our cardiovascular health, help with weight loss & obesity, control blood sugar levels and hunger while adding tones of antioxidants, vitamins, and minerals to our bodies.
1. Supports Cardiovascular Health
The Mediterranean diet is one of the most versatile and yet heart-healthy diets, without many possible nutrient deficiencies or cravings, if done the right way.
The healthiest people who live in the blue zones live long lives and most of them eat dietary patterns similar to what Mediterranean cuisine offers. Most of the blue zones are situated around the regions of the Mediterranean Sea which offers the main plant options.
Besides the statistical measurement which has some evidence behind it of how this diet can affect heart health, such as a reduction in cholesterol, blood pressure, etc. there are many factors that are subjective or cannot be measured directly, which are habits of the people who live long and healthy lives. These things such as eating with your loved ones, having a purpose, relaxation & breathing exercise and moderate active lifestyle all around are all major factors contributing to a healthy heart.
No, we can go on with the studies and show you, why MD is heart-friendly.
In a 4 years follow-up with 11.015 participants, a cohort study SUN Project has shown a high correlation between the Mediterranean diet and vitality, mental health, physical health, and general health. (1)
Another study on Cardiovascular health showed that the Mediterranean diet since it's rich in plant-based foods that are minimally processed it can have a positive effect on our heart health. This eating pattern is abundant in monounsaturated fat, and low in saturated one, plus it offers a great combination of vitamins, minerals, and antioxidants. (2)
Reduced cardiovascular disease risk with MD
By modulation of lipid levels, cholesterol, and blood pressure this diet is hypothesized to positively influence our cardiovascular health. In a cohort study on 25,000 citizens of Molise, the Mediterranean diet was associated with a reduced risk of coronary diseases, stroke, and mortality from all causes. (3)
One of the most popular studies on MD for Cardiovascular health is known as PREDIMED. This study has tested the Mediterranean diet with the addition of 30 grams of nuts daily, or the Mediterranean diet with 4 tablespoons of extra virgin olive oil. (4)
Higher adherence to the Mediterranean diet was shown to be positive for reducing the risk of Cardiovascular Diseases. (5)
2. Has Cardio-Protective Properties
Dating back to the eternal trinity in Greece, which is wheat-olive oil and wine, the Mediterranean diet doesn't fall short of this. Comparing the health of Northern Europeans and Americans to Italians and Greeks, it was shown that MD was one of the important factors that contributed to heart health in the Mediterranean regions.
There is evidence that a high intake of saturated fat and cholesterol has a direct effect on mortality rates, cardiovascular diseases, and atherosclerosis in humans.
After a couple of observational, epidemiological, cohort studies and meta-analyses, the Mediterranean diet seems to be a great and safe dietary pattern when it comes to health and lifespan. It is associated with a lower risk of cardiovascular diseases, a lower rate of mortality and has been used in the prevention of chronic degenerative diseases. On top of this, it offers healthy fats and reduces inflammation in the body. (6)
3. May improve cholesterol profile
As we all know high levels of LDL are detrimental to our health and reducing total cholesterol and LDL levels while increasing HDL levels can be beneficial. Many people with serious cholesterol issues use stating which have been shown to have dramatic lipid-lowering effects.
However, a safer route to go around and treat or prevent high cholesterol may be drug-less, by changing the dietary pattern and switching to more plant-based foods, healthier oils, and reducing the excessive intake of saturated fat.
This review took a look at different eating strategies including Ornish, Mediterranean diet, American Heart Association Diet, phytosterols, fiber, exercise, soy products, fish oil, and their effects on lipid levels.
The Mediterranean diet has been shown to be effective for lowering cholesterol, and there is epidemiological evidence behind it. It is also suggested that adding fish oil might lower cholesterol even further. (7)
4. Has Potent Antioxidants, may reduce inflammation
Many diseases in general, generate from inflammation and oxidative stress. As you may know, antioxidants are healthy and their function is to fight against free radicals in the cells, which may further contribute to developing various diseases. Antioxidants are a great and safe way of preventing inflammation and degeneration.
Mediterranean diet is filled with antioxidant-rich foods, because of its wide variety of plant-based foods such as vegetables, fruits, nuts, and legumes.
Here is an example of one of the highest antioxidant foods you can eat on the Mediterranean diet: Artichokes, berries, red cabbage, Kale, Beans, Goji berries, Beets, Spinach, chia seeeds, Papayas, garlic, apricots, lemon, turmeric, green tea, carrots, tomatoes, walnuts and the list goes on.
What makes this diet antioxidant-rich is its herbs and spices. The Mediterranean style of eating incorporates many herbs like turmeric, curcumin, curry, basil, parsley, cinnamon, capers, anise, and chervil.
Being rich in these plant-based foods may have a protective role against many inflammation-caused diseases. (8)
Another important factor is not just antioxidant-rich foods that prevent damage, the Mediterranean diet has rarely any pro-inflammatory foods, since it rarely allows enjoying red meat and sweets, while totally cutting off processed meat.
In people who are at a higher cardiovascular risk, this diet may be good prevention since, in PREDIMED trial, it was revealed that Mediterranean eaters had higher endogenous antioxidants content and decreased pro-oxidant activity. Higher polyphenol intake was also associated with lower blood pressure, inflammatory markers, and overall mortality. (9)
Supplementing antioxidants may be one way of prevention, but if we can manipulate our antioxidant status through food, that would be even healthier. This diet offers a variety of antioxidants, especially vitamin A (fish, liver), vitamin E (oils, sunflower seeds, nuts) vitamin C (citrus fruits and peppers), Selenium (brazil nuts, tuna), and many other bioactive compounds such as flavonoids, quercetin, lycopene, catechins and polyphenols found in garlic, wine, grapes, virgin olive oil, leeks, and tomato. (10)
5. Potential Anti-Cancer Properties
In the previous section, we've seen the high antioxidant ability of the Mediterranean diet, which is related to lower inflammation. Chronic inflammation is linked to cancer and DNA damage.
The fact that the Mediterranean diet is rich in anti-inflammatory nutrients and antioxidants, can help with reducing oxidative stress and cell inflammation which can lead to DNA damage.
Diet is one important determinant factor when it comes to health, and the Mediterranean style of eating habitually was linked to lower cancer incidents if eaten on a regular basis. This shows us that MD is a protective factor against cancer onset, especially when high levels of plant-based foods and olive oil are present. (11) MD can do this by counteracting DNA damage, slowing down the development of various forms of cancer, and negatively affecting cell proliferation.
In this updated review, a meta-analysis on the Mediterranean diet, its effects and relations to mortality and cancer 2,130,753 subjects were included. The adherence to Mediterranean Diet was inversely associated with the risk of cancer mortality, colorectal cancer, prostate cancer, breast cancer, gastric cancer, liver cancer, and head and neck cancer. (12)
Most of the protective effects appeared to come from plant-based sources like fruits and vegetables and whole-grains.
In this review, 28 trials with more than half-million participants showed that the Mediterranean diet is associated with reduced incidence of cancer overall, especially digestive tract cancers. (13)
Some of the most important antioxidants present in many foods of Mediterranean cuisine are:
Phenolic compounds like Anthocyanins, Resveratrol and Quercetin, and other antioxidants like Lycopene, Coenzyme Q10, Alpha-Lipolic Acid, Green Tea, Vitamin C, E, A, beta-carotene, and Selenium.
6. Boosts Mood and Improves Mental Health
Mediterranean diet has been linked to improved mental health and lower cases of depression, which may be used in the future as dietary prevention to mental health problems, mainly depression or anxiety.
Even though the evidence that supports this fact is not that strong, we can easily see that people on the Mediterranean diet are free of saturated fat which clogs the arteries and you may want to ask yourself how is that connected to depression.
On a deeper level clogging the arteries is connected with storing emotions, increased tension, and raised blood pressure, so when we open the energy channels can run smoothly, which feels like a release in tension.
Aside from this, the Mediterranean pattern of eating includes a lot of Tryptophan rich foods such as fish, peanuts, bananas, eggs, cheese, and pumpkin. On top of that, there are many options in this diet such as beans, avocados, and nuts that are rich in Tyrosine, both Tyrosine and Tryptophan are important for the production of dopamine and serotonin, which are known as feel-good chemicals.
In a study done on 25 healthy adults, a tryptophan-rich diet was added for 4 days, and differences were seen in anxiety, depression, and mood. Higher tryptophan diet resulted in reduced symptoms of depression and anxiety. (14)
In this Meta-analysis of 41 observational studies, it has been shown that people on the Mediterranean diet had significantly lower depression incidence, by 33%. (15) One of the major reasons behind it is that this diet contains many vegetables, nuts, and fruits which are higher in anti-inflammatory factors, characteristic for the Western American diet.
Another important Mediterranean drink is wine. High-quality red wine can affect mood and feeling sensations, including our emotional state. In a study done in a three consumer trials of around 115 people, the quality of the wine was studied for its effect on mood, evoked-emotions, and willingness to pay.
It turns out that high-quality wine can induce positive feelings and more intense emotions such as optimism, happiness, enthusiasm, contentment, and passion. (16)
7. Aids in Brain Health, May improve Cognitive Performance
Mediterranean diet as an eating pattern is characteristic for many people living in the Blue Zones. The Blue Zones are certain areas of the world where the healthiest centenarians live. But besides the long lifespan, the health span of these humans is also high, and the overall cognitive function, brain development, and mood scores seem to be higher.
Besides boosting mood, the Mediterranean diet was also studied for its potential to improve brain health and reduce the risk of developing neurodegenerative diseases such as Alzheimer's and Dementia. (17)
It turns out that slow cognitive decline is associated with the Mediterranean diet, which suggests its use as a potential preventive approach against neurodegeneration.
In an observation based on 66 cognitive tests with 1888 participants, a small 12% of the studies showed a correlation between the Mediterranean diet and brain health. This diet reduced the risk of low-plasma brain-derived neurotrophic factor by 78% and improved cognitive performance. (18)
Even though findings are inconsistent, the Mediterranean diet was shown to improve cognitive function and reduce the risk of cognitive impairment and neurodegenerative diseases such as Dementia and Alzheimer's. (19) (20)
As we've already seen, the Mediterranean diet is full of tryptophan-rich foods which may boost mood.
A study done on tryptophan and serotonin levels in the brain has shown that low serotonin is associated with lower mood and depleted serotonin causes cognitive impairment, while tryptophan supplementation was shown to improve attention and memory scores. (21)
Healthy Gut microbiota is one of the reasons behind a healthier brain in Mediterranean eaters. The gut-brain axis directly affects our mood and brain health, and those on the Mediterranean diet have a healthier gut, mainly due to fiber-rich foods and lower sugar and red meat consumption which can cause inflammation.
Microbiota in the gut regulates serotonin and tryptophan which affects central higher-order behavior. (22)
Administration of tryptophan in female rats has been shown to enhance cognitive performance and increase 5HT metabolism in the hippocampus. (23) This can additionally improve memory performance and learning since the hippocampus region is involved in this process.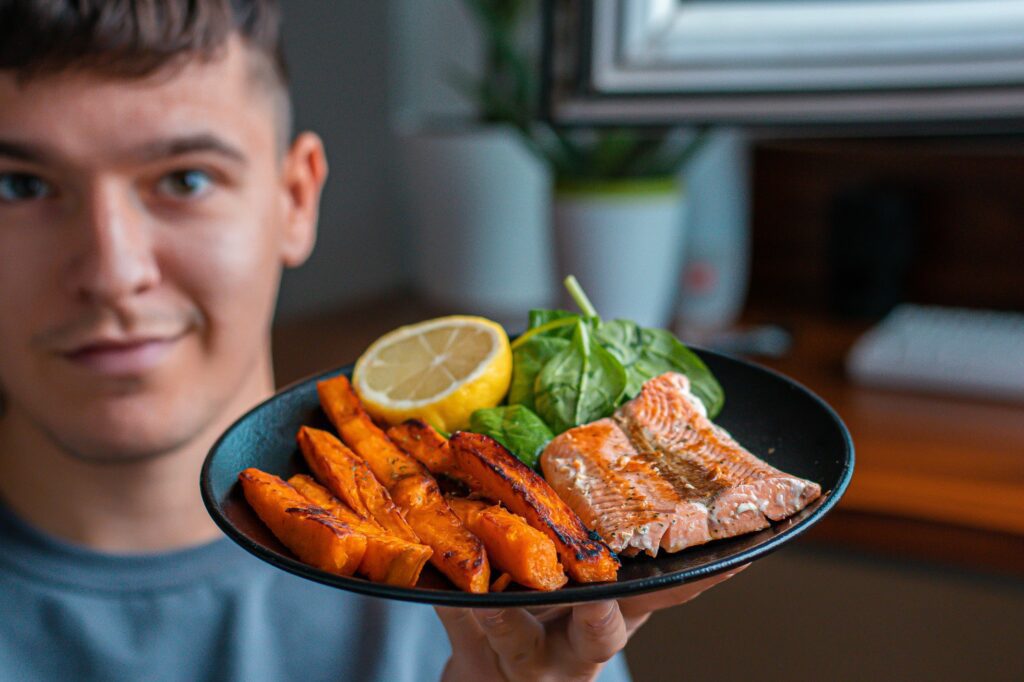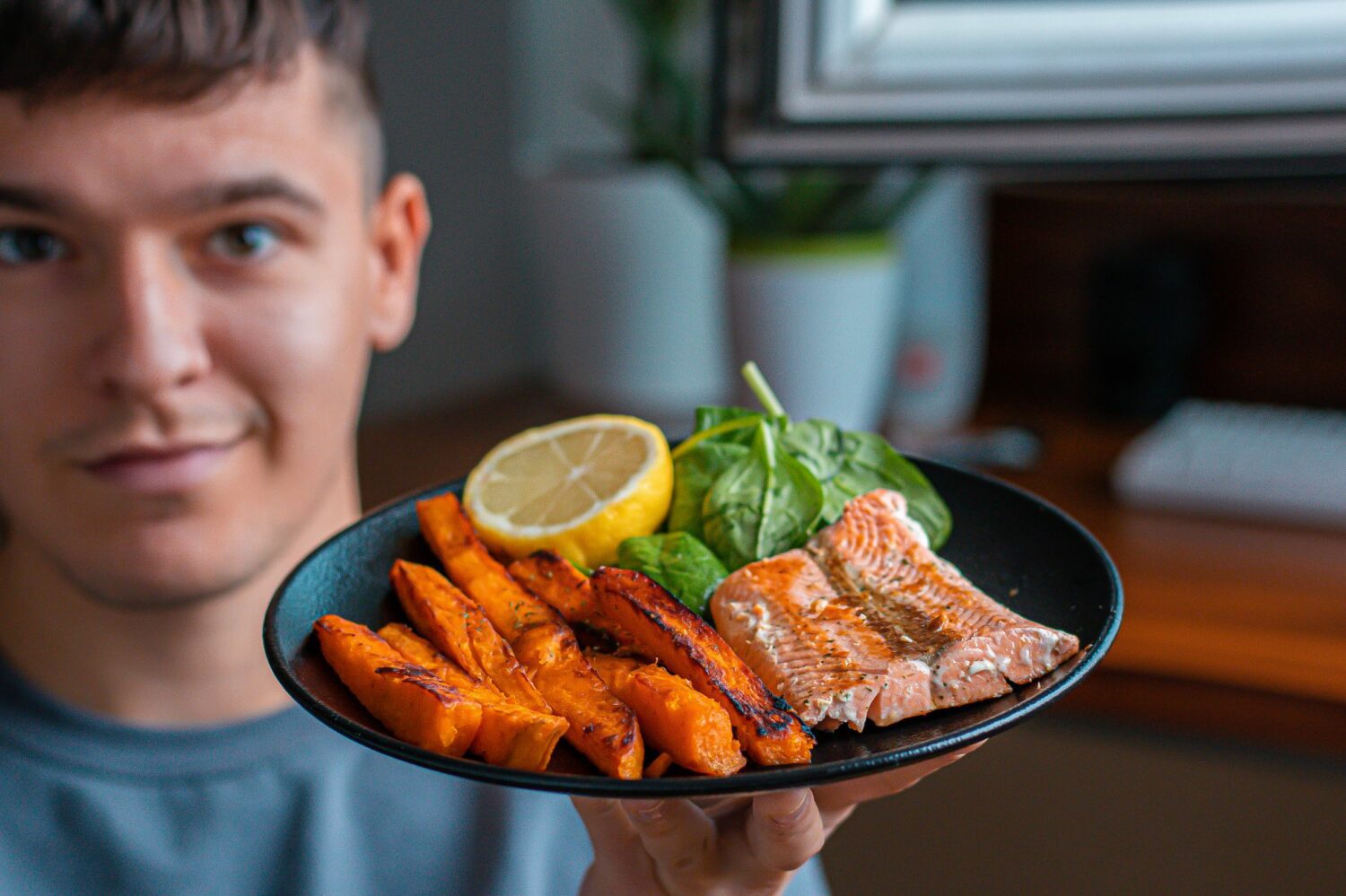 8. Supports gut health | Healthy Gut Microbiota
The microbiota in your gut is associated with your mood and cognition. It is the bacteria in your gut lineage that works to control digestion and immune system function.
In the Mediterranean diet, there are a couple of studies showing improvement in gut microbiome bacteria, because of this dietary pattern.
Why is the Mediterranean diet good for the Gut?
Well, as you may know, MD is rich in fiber foods, both soluble and insoluble. Think of it as a vegan diet without animal product restrictions and deficiencies. It offers a bunch of antioxidants, vitamins, and minerals, without being macronutrient restrictive. But, one of the major reasoning behind the MD effect on Gut health is it improves gut bacterial diversity.
Fiber-rich MD foods healthy for the Gut are fruits, legumes, nuts, vegetables, beans, and grains.
A high-fiber or plant-rich diet may improve digestion and directly affect the gut microbiome, which offers several health benefits. Fiber consumption is linked to improved digestion, mood, and cognition. (24)
Besides the fiber, one of the major reasons behind MD's healthful impact on Gut is its low saturated fat and excess sugar, which translates to lower inflammation due to cutting pro-inflammatory agents. Sweets and red meat are monthly foods, which means they are enjoyed very rarely, while on a day-to-day basis they are dominated by with veggies, fruits, nuts, and legumes, a powerful source of antioxidants and fiber.
In this study on 27 healthy individuals eating a Mediterranean diet, we can see important shifts in their gut microbiome health. Increased levels of Short-chain-fatty acids were present. Also, greater bifidobacterial counts in MD eaters were correlated with a higher intake of plant-based nutrients such as vegetable proteins and polysaccharides. (25)
There is a 1-year intervention study done on Europeans that shows how the Mediterranean diet is associated with reduced frailty, inflammation, and improved gut health. Again, the diet itself has shown positive changes in cognition and lower inflammation, associated with an increase of SCFA and lower production of secondary bile acids. (26)
The Mediterranean diet was shown to increase certain gut bacteria such as Faecalibacterium prausnitzii and Roseburia while reducing pro-inflammatory ones. Plus it provides key nutrients such as B vitamins, especially B6 and Folic acid, many important minerals like magnesium, iron, copper, and potassium, and vitamin C.
9. Weight loss and Weight Management
When it comes to weight loss, it is all about the calories in versus calories out ratio. Well, as true as this is, certain foods can improve weight loss and weight management.
Most of these types of foods present in the Mediterranean diet are:
Satiety promoting foods: fiber-rich nuts, seeds, grains, dark green leafy veggies, and legumes
Lower-calorie, higher volume foods: plant-based sources like beans, veggies, and fruits
Metabolism boosting foods: Herbs and spices such as garlic, pepper, curcumin, turmeric, parsley, and onion
The EPIC-Italian cohort study showed the effects of the Mediterranean diet on changes in weight and waist circumference. It showed that the Italian Mediterranean diet can help in preventing abdominal obesity (visceral fattening) and weight gain. This study investigated 32,119 cohort members with anthropometric measures, following a recall around 12 years later. (27)
In the long-run, more than 12 months period, the Mediterranean diet has been shown pretty effective in weight loss in comparison to low-fat diets. It also had beneficial effects on reducing cardiovascular disease risk, blood pressure, and lipid levels. (28)
Comparing a low-fat, versus the Mediterranean or low-carbohydrate diet, the weight loss was highest in the MD and LC diets, with mean weight loss around 4.7 to 4.9 kg respectively, amongst 272 participants. Mediterranean diet had the highest ratio of Monounsaturated vs saturated fat, plus a lot of dietary fiber. (29)
A good education around this diet is needed, including tips and professional nutritional guidance focused on a healthier way of following the Mediterranean diet. It is a great investment in health for one who learns how to structure his diet, to fit a Mediterranean cuisine style.
The study itself suggests that more implications and education around MD should be proceeded in the future, putting MD as a potential alternative diet that can help with preventing obesity. By raising awareness, shaping attitudes, and evoking changes in lifestyle, behavior, and habits through education, it is believed we can transform human health. (30)
10. Controls Blood Sugar, May help with Diabetes
Mediterranean style of eating may help people with diabetes type 2 since it contains a lot of fiber-rich, nutrient-dense, and low-calorie foods.
On top of this, MD has been shown to influence all the other co-factors for healthy heart and obesity reduction such as reducing triglycerides, lipid peroxidation, cholesterol, and blood pressure.
Since cardiovascular diseases are linked to diabetes, and one can be the cause or amplify the other, the Mediterranean diet is considered a safe and effective way of combating high sugar levels, hypertension, and obesity.
Biohack
In an interesting publication "When Red Meat Meets Red Wine" we can see that drinking red wine, which is a habitual practice when eating in Mediterraneans, lipid peroxidation is decreased when polyphenols from the wine and oxidized fats are consumed together.
In this meta-analysis of 17 studies, this style of eating was shown to improve fasting glucose and A1C levels in people with type 2 diabetes. (31) Most of these benefits come from improving insulin sensitivity, due to the replacement of trans and saturated fats with mono and polyunsaturated ones.
Also, higher adherence to the Mediterranean diet was linked to lower obesity, waist-to-hip ratio, the prevalence of metabolic syndrome, as well as lower Body Mass Index. (32)
When testing out adherence to the Mediterranean diet in 13,380 Spanish graduates without diabetes for a mean of 4.4 years, they found out that those who had higher MD scores were also less likely to develop diabetes. (33)
Interventional studies have shown that Mediterranean eaters have usually the lower the risk of cardiovascular disease. One of the main mechanisms behind potential diabetes prevention was glycemic control, plus this diet has been shown to be beneficial for liver function and libido. (34)
In research on diabetes, the Mediterranean diet was shown to positively affect overall health, reduce the risk of early death, and help with diabetes management.
Many different studies were reviewed. Three of them were long term and suggested glycemic control through MD, another meta-analysis showed a 49% increased probability of metabolic syndrome remission and 5 meta-analyses have shown the favorable effect of MD in comparison to other diets, on total cholesterol, HDL, and body weight, while the last 2 meta-analyses shown 19-23% reduced risk of developing diabetes In the future. (35)
Comparing the results from PREDIMED, groups who practiced a Mediterranean diet with extra olive oil or nuts performed better than the control ones, with diabetes incidence of 10,1%, 11,0%, and 17,9%, respectively. (36)
11. May Promote Longevity
The mediterranean diet is pretty famous for its versatility and adaptability, non-restrictive pattern style, and health benefits. One of the major benefits comes because of its plant-rich food sources and healthy fats, especially higher amounts of omega 3.
Many antioxidants, fiber, vitamins, minerals, and bioactive compounds present in this diet can improve health and overall well-being.
Blue Zones are places where the healthiest people in the world live, with most centenarians situated at these locations. Various dietary patterns in the Blue Zones, are similar to the Mediterranean diet, which is also part of two main Zones, Ikaria in Greece and Sardinia in Italy.
High-quality, nutrient-dense foods and loads of antioxidants are responsible for the health benefits that these diets produce, along with higher activity levels, moderate amounts of wine, life purpose, and family & socialization.
A lot of studies confirm the benefits of the Mediterranean diet on cardiovascular health, reducing the risk of chronic diseases, and increasing lifespan. This diet may also help to prevent neurodegeneration and cognitive decline. (37)
It is believed that MD has these potential effects due to its perfect combination of antioxidants and nutrients, a large variety of foods, and not-restrictive eating pattern.
There are many other reviews and cohort-studies which hold evidence about the potential health benefits of this diet. Mediterranean Greek style is dominated by olive oil and green leafy veggies loaded with tones of fiber, antioxidants, and flavonoids. Aside from this, drinks such as wine and tea, also antioxidant-rich are pretty habitual too, providing further DNA protection and reducing oxidative stress. (38)
Research Limitations
*Studies have some limitations, important to evaluate the validity of their results. Here's a highlight of some and NOT ALL studies (and limitation), shown in this article, for context.
Limitations of meta-analyses quality and methodology-use controversy.

Studies testing only in Mediterranean regions *different health status, environment, genetics

Different control of confounders and different dietary assessments.
The reliability and repetitiveness in measuring adherence to Mediterranean Diet was inconsistent.
Insufficient measurement of external factors *cooking type, time, food quality etc.

Insufficient guidance to reduce fat-intake for significant duration in a trial *3 years

Aged data or data/research/reviews earlier than 2010.

Lack of information about the quality of consumed products (foods).
Evidence of Mediterranean lifestyle missing *activity, lifestyle, socialization etc.
Use of self-reported weight measures and dietary pattern inferred from one FFQ administration.
Best Foods to Eat on a Mediterranean Diet
Sometimes it is hard to choose healthier food alternatives when choosing a specific diet, but when it comes to the Mediterranean, this is not so hard. In its pyramid, MD offers whole grains, veggies, and fruits, beans & legumes as the main elements, on which you add some fish, poultry & olive oil, season it with natural herbs and spices and enjoy a glass of red wine, while avoiding sweets and red processed meats.
However, I picked the healthiest foods, suitable for the Mediterranean diet, so here is the list:
Tomatoes, Peppers, and Oranges are amongst the highest vitamin C-containing foods present in the Mediterranean diet. Vitamin C is one of the main antioxidants in the body, improving collagen production, immune system function, iron absorption, and overall growth, development, and regeneration. Tomatoes are high in Lycopene, beta carotene, and chlorogenic acid, which can improve blood pressure, skin health, and inflammation.
Olive oil & Avocado are some of the best monounsaturated fat sources, rich in oleic acid, known as an omega-9 fatty acid. Both containing good amounts of vitamin E, these two foods including Avocado oil are great for your skin health, fat-soluble vitamin absorption, and anti-inflammatory response.
Basil, Oregano, Parsley, and Turmeric are some of the most popular herbs and spices used in MD, loaded with tones of antioxidants. They are also nutrient-dense, especially oregano which contains calcium, fiber, vitamins A and C, and omega 3-fatty acids.
Sweet Potato, Carrots, and Papaya are great sources of Beta-Carotene, a red/orange pigment that gives it is rich orange color. Beta-carotene is the precursor of vitamin A, which plays important role in healthy skin, supports immune function and vision. Papaya is one of the highest bioavailable sources of beta-carotene (39) and eating sweet potato can improve vitamin A status. (40)
Beans & Legumes are some of the best vegan options when it comes to lean protein. The highest protein options are soybeans, chickpeas, lentils, white & navy beans, black and red kidney beans offering around 15-30 grams of protein per cup.
Spinach, Kale, and Swiss chard are some of the healthiest greens on the planet. They are loaded with tons of antioxidants, minerals, vitamins, and fiber. Kale contains vitamins B, A, K, and C, Spinach is rich in vitamin A and K as well, while also being high in lutein and beta-carotene and Swiss chard contains A, C, K as well, and is a good source of minerals such as potassium, manganese, and magnesium.
Squash and Pumpkin seeds provide around 2,388 mg of Leucine in 100 grams, which equals to 87% RDI. Since vegans run lower on leucine, this is a great alternative to boost your intake of this important amino-acid, especially for those looking to build muscle. (41)
Oats, Quinoa and Brown Rice are great for weight loss and sugar stabilization. Quinoa is one of the best plant-based protein sources for vegans, which contains around 8 grams per cup, but a high-quality protein that includes all essential amino acids. (42) Oats are high in fiber, a special type known as beta-glucan that helps to manage blood sugar and lower cholesterol (43) while brown rice is a good B vitamin and minerals source.
Chia & Flax seeds and Walnut oil are very rich in DHA and EPA (that many vegan diets lack) which are important omega 3 fatty acids crucial for healthy heart & brain function. Flax seeds are loaded with omega 3 and Thiamin (44) , Chia seeds have an amazing omega3 to omega 6 ratio and are pretty nutritious (45) while Walnut oil provides 2,338mg of omega 3's per only one tablespoon (10g). There are the best vegan omega 3 alternatives.
There are other foods higher in potassium such as spinach, Swiss chard, and white potatoes, but in my opinion how much (quantity-wise) can you eat leafy greens, and is white potato really the healthiest option?
Cocoa, Teas, Coffee, and Dark Chocolate are some of the highest antioxidant sources that have many inflammation-fighting and oxidative stress-reducing properties. Great options for improving mental performance & alertness. Caffeine is present in all of them, which can reduce fatigue, increase energy, and reduce the risk of cancer. (49)
Berries: Blueberries, Raspberries, Blackberries are antioxidant powerhouses, each one of these berries helps reduce inflammation, improve skin health, and promoting longevity. The addition of these three berries to a vegan or MD diet can improve your antioxidant status.
Red Cabbage and Beetroot juice are some of the most powerful sources of vitamin C, which also contain some vitamin A and K, plus are rich in many important nutrients and minerals. Beetroot is great for lowering blood pressure due to its vasodilatory, Nitric Oxide increasing effect while red cabbage is a great immune supporter. (50)
Mushrooms, Olives, and Palm Hearts all provide a great amount of Iron (around 20% RDI per cup), which is an essential mineral that plays role in oxygen transport and red blood cell creation that usually plant eaters lack. Other great Iron vegan-friendly alternatives include asparagus, leek, apricots, and acorn squash.
Broccoli and Cauliflower are great for upregulating your vitamin intake. These cruciferous vegetables are pretty rich in vitamin C, vitamin K, and Folate which are important for immunity, skin aging, energy metabolism, oxygen transport, and bone strength. (51) (52)
Hazelnuts, Almonds, and Brazil nuts are great fiber and protein-rich nuts that contain high levels of important minerals and antioxidants, such as vitamin E and Magnesium of around 8-37% and 20% of RDI, respectively. Vitamin E is known as a great antioxidant for the skin, which also exerts photoprotective effects and reduces oxidative stress. (53)
Conclusion
Mediterranean diet is characteristic for the countries around the Mediterranean Sea region like Italy, Greece, Spain, and Turkey. Parts of the Blue Zones like Ikaria and Sardinia are Mediterranean friendly, so this diet can make it on a healthy, sustainable, longevity-promoting diet list.
Overall, MD includes a bunch of plant-based foods with whole-grains, legumes, and beans on which we add a good punch of olive oil, leafy greens, and herbs or spices. When it comes to meat and alcohol, fish and seafood are a great option with high-quality red wine occasionally, while avoiding trans fats, processed meat, and sweets.
Benefits of this diet are seen in cardiovascular health, obesity and weight management, increasing lifespan and health-span, and improving overall well-being and life-quality.
Frequently Asked Questions
Is the Mediterranean diet anti-inflammatory?
Yes, it is. The Mediterranean diet incorporates some small changes that may have great impact on reducing inflammation. It swaps butter and coconut oil with healthy monounsaturated oils like olive oil. It swaps processed red meats with omega 3 rich seafood options like crab, fish, lobster, octopus, etc. It reduces the intake of refined, processed sugar too.
What foods to eat on the Mediterranean diet?
The main foods characteristic for the Mediterranean diet are: olive, tomatoes, olive oil, oregano, feta cheese, fish, wine, dark chocolate.
In general, the Mediterranean pyramid allows eating:
Basic foods daily: whole grains, fruits, vegetables, nuts, beans, seeds, herbs, spices, legumes, and healthy oils.
Foods eaten in moderation: seafood, poultry and wine
Foods eaten in small amounts: chicken, beef, dried fruits
How can Mediterranean diet affect weight loss and diabetes?
The Mediterranean diet is one of the most sustainable long-term diets for healthy weight management. Just the facts that we exclude white, processed and refined sugar means a lot for weight-loss and diabetes. On top of that, red meats and processed meats are reduced or completely excluded, which reduced unhealthy fat intake. The high-fiber content of this diet may also improve gut health and stabilize blood sugar levels. It has a ton of satiety promoting foods which provide more calories per smaller volume. It also has a ton of metabolism boosting spices and herbs such as garlic, pepper, curcumin and turmeric, which can increase thermogenic effect of food and energy expenditure, thereby increasing the amount of calories we burn.
Which foods to avoid on a Mediterranean diet?
The foods to avoid on a Mediterranean diet are: processed red meats (salami, bacon sausage), refined sugars (crackers, white pasta, pastry, cookies), excessive alcohol and saturated fatty oils (kernel oil, coconut oil, butter).  
Author